As many are wont to point out, twenty-first century learning skills are not specifically about computers and technology. It's just that computers facilitate the interactions and collaboration inherent in what we call 21st century skills. But computers are not the only way. I teach in a 1-1 tablet environment, and the student's favourite method of collaboration is this: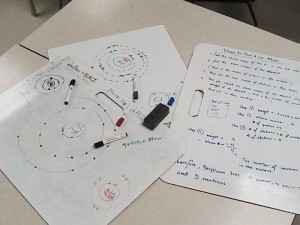 The whiteboards are tactile, support multiple users, are easily editable, and support colour. What more could you ask for from a collaborative tool?
The funny thing is, at the end of class, someone inevitably whips out a phone to take a picture of their board to share with their group.
Awesome.