Yesterday we had a snow day. Hurray! Everyone loves a snow day. Everyone, that is, except the students who have a test the following day and are looking for extra help.
In order to provide extra help online for my students, I decided to try out Twiddla. Twiddla is a web-based interactive whiteboard that allows participants to comment and draw in a collaborative space, in real time. So yesterday I tried an experiment. I set designated times, started up a session in Twiddla, opened up Skype, and waited.
About ten minutes past the start time, a couple of students appeared on the chat list, and we began. after about half an hour, there were four students, asking questions and following along as I worked through problems on the whiteboard. So far, so good.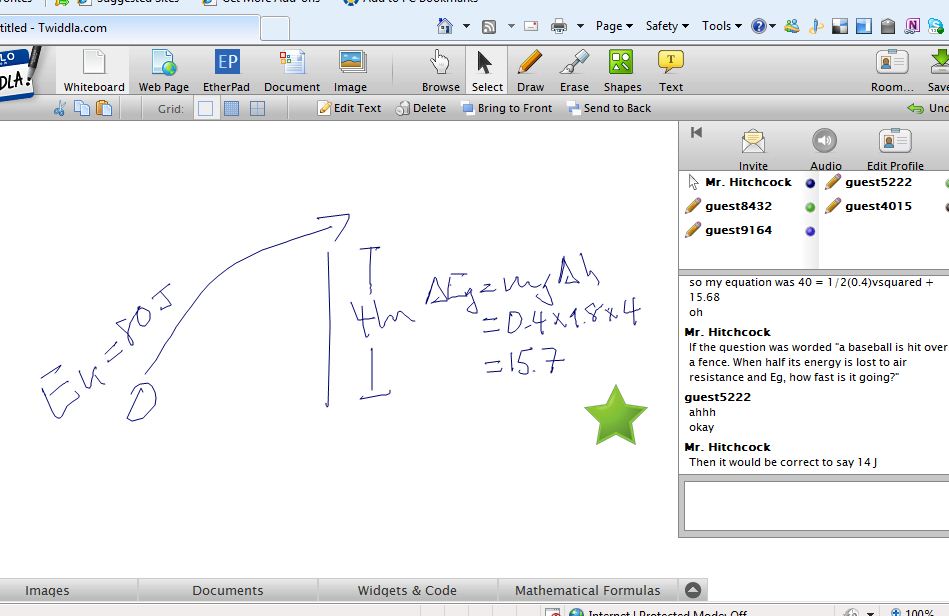 But I wanted them to take a more active role, so while working on one problem, I said (well, texted) "who has a calculator?" Within a few minutes, students were venturing answers to others' questions – some on the calculator, some reiterating earlier comments for newcomers. As they became more comfortable with the arrangement, students also started putting their names in, instead of leaving the default user numbers. And some students stepped in and started solving the problems. Eventually, I wound up as a spectator, while the students helped each other. That made me proud.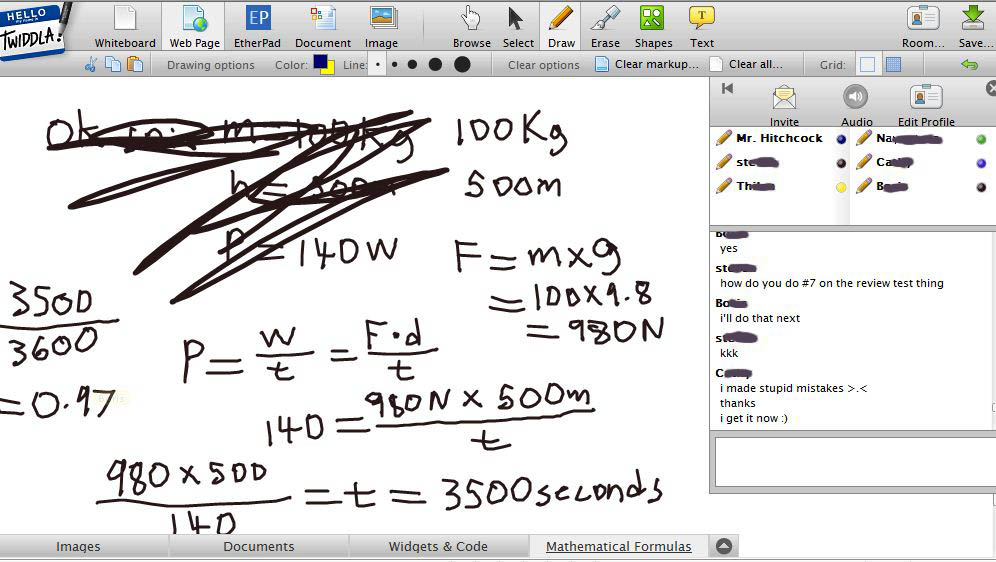 So let me give you a bit of a rundown of the GBU (Good, Bad and Ugly) of using Twiddla in this way for virtual extra help:
The Good:
It is very easy to use
It is free to create a one-off, transient page.
No login required – just send students the URL of the page and you're good to go
The process is democratic – anyone online has the same "presence". No one is the designated "boss", and anyone can contribute text or drawings at any time.
Pacing – having to type and draw, I could only go so fast, and students could interject at any time, so no one seemed to get left behind.
Tone – since everything was in text, no one seemed exasperated or impatient, so the tone was calm and supportive.
They offer free Pro accounts for educators.
The students liked it.
The bad:
When scrolling back through the chat history, if someone adds a new comment it jumps you back to the end.
There didn't seem to be a way to grab the discussion and paste it somewhere for later reference, perhaps this is a feature in the pro version. Without easy access to the history, the same question may come up multiple times.
Voice is available in Twiddla, but anytime I tried to select it, it said all voice lines were in use. I don't know if that was just because I was using the free version.
Pacing – it can be slow doing it all by text, and takes longer than would be the case with voice
The Ugly:
There was nothing intrinsic about Twiddla that I would put in this category
While I was offline, some of the students got excessively silly, posting inappropriate comments. Regular reminders that online forums like this are an extension of the classroom would be useful.
On a final note, it was interesting that in the end, not one student ended up contacting me on Skype. The entire session, which lasted for several hours on and off, was silent. Given how boisterous my students can be, that was quite a different experience.